Parquetry wood floors. Stylish, timeless, durable and environmentally sustainable, timber parquetry is the flooring of choice for architects and interior design experts.
Elegantly combining form and style with the enduring beauty and tone of natural wood, parquetry is a unique partnership between craftsmanship and sustainability that no other flooring can create.
Beautiful parquetry designs can provide a unique palette for the craftsman, with the selection of hardwood and the individual design patterns making every project one of a kind.
Unique design feature
Experiencing a resurgence in popularity in Australia, parquetry is being recognised as a unique design feature in new and renovated interiors. The stunning geometric designs are eye-catching and significantly increase the value of any home or office.
Parquetry has the same heirloom quality look and feel to it as a piece of antique furniture or a handcrafted musical instrument passed down from generation to generation.
There is an artistic ambience in the warmth of natural Australian hardwood enhanced by the geometrical precision and repetition of a parquet pattern.
The word 'parquetry' is derived from the Old French 'parchet' meaning 'small enclosed space'.  Parquet floors were laid in the Palace of Versailles in 1684 to replace the marble floors which required constant washing and led to the timber bearers rotting. The wooden floors were much admired and since then they have featured in many grand houses.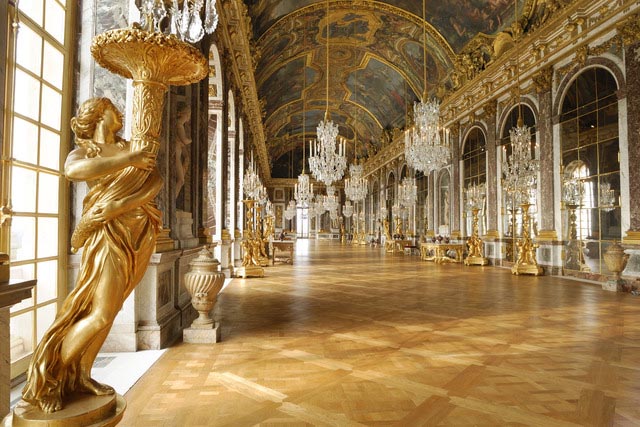 Sustainable wood flooring
Parquetry floors are the most sustainable and environmentally responsible wood flooring.  Parquetry is created from a solid block of wood and because it doesn't have a tongue and groove like floorboards it can be refinished and restored many times in its lifetime.
The rectangular blocks of wood that make up a parquetry pattern come in a range of sizes, most commonly 260ml length by 65ml width by 19ml depth.
Parquetry is available in a wide variety of timber species including Australian hardwoods such as Jarrah, Blackbutt and Tallowwood.
Above: Chevron pattern parquetry.