Herringbone Flooring Sydney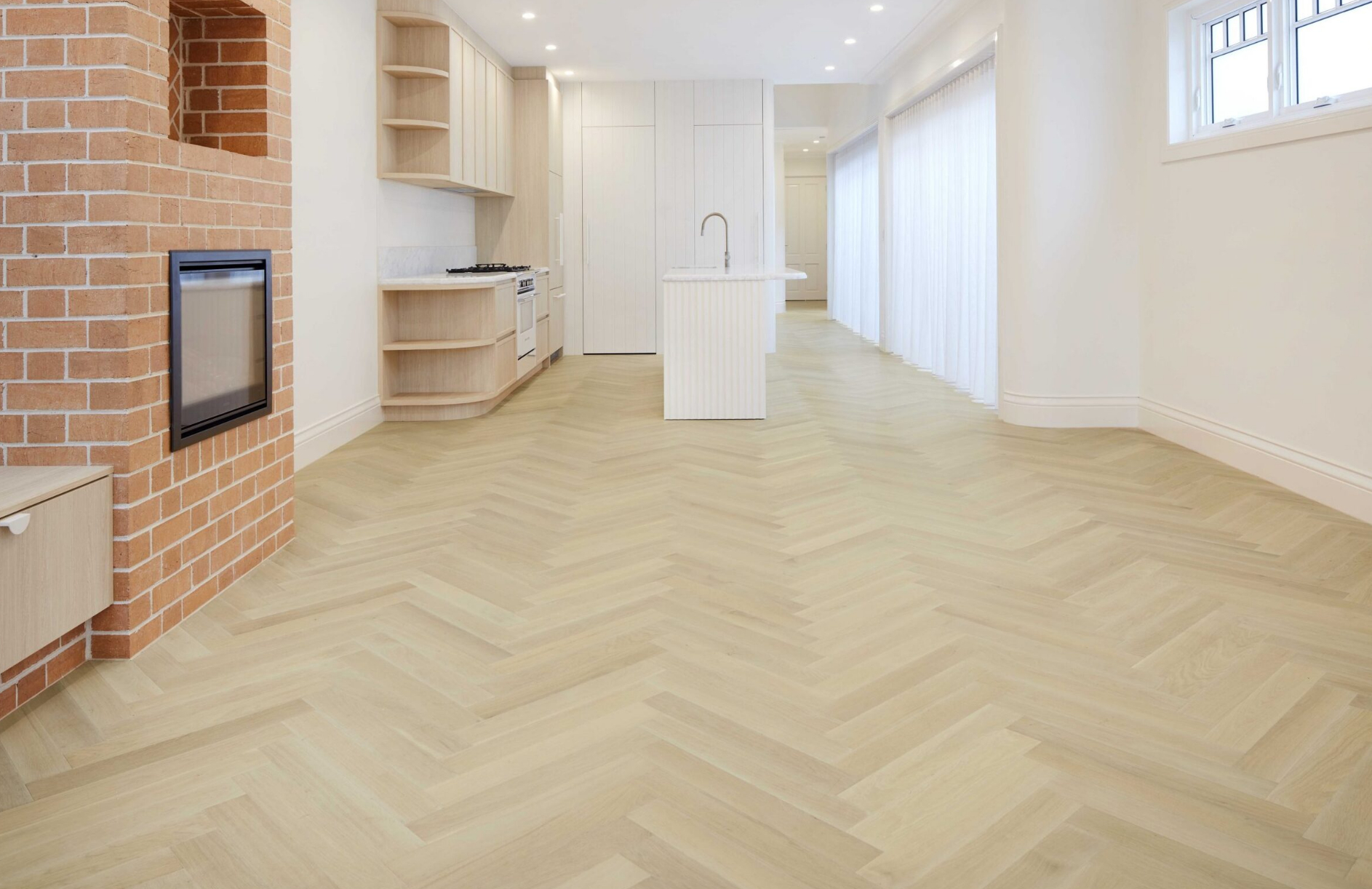 Herringbone flooring is a type of patterned wood flooring that has been used since the early 1900s in Australia.
Herringbone timber flooring is traditionally made from solid pieces of wood, but today, many herringbone timber floors are manufactured using engineered wood flooring products, of which you can buy directly from our Yes! Colour range.
The history of herringbone the pattern is in textiles, being a type of stitch originally, the pattern lends itself well to flooring, the shape of the stitch or the 'pattern' provides structural integrity and stability to the substate and is one of the keys to its longevity.
It is an alternating visual pattern based on opposing blocks of wood arranged into a descending tile, much like the zipper on jeans!
Herringbone floorings come in various styles, such as herringbone parquet, herringbone strip, herringbone plank, and herringbone tile. These types of herringbone floorings are available in a variety of finishes, including oiled, waxed, and unvarnished.
What Are Some Benefits Of Herringbone Flooring?
There are several benefits of herringbone floors. Here are four of them:
1. Durability
Herringbone floor tiles are extremely durable. They are resistant to scratches and stains, and they do not easily absorb moisture. This means that
herringbone flooring is ideal for homes where pets and children are present, due to the ease of clean up, and low allergy response to real wood.
2. Easy Maintenance
Herringbone floor tile requires little maintenance. Unlike other types of flooring, there is no need to apply sealants or refinishing agents in the first few years, but these floors can be maintained well and easily.
3. Hard Wearing
Herringbone parquet flooring is often considered a lot more stable than a solid wood floor due to the way in which the flooring is laid. Additionally, this flooring may also be made from back-to-back plywood, ensuring that the wood does not change shape in the cases of heated subfloors, or in other extreme environments.
4. Beautiful Appearance
Herringbone flooring looks beautiful. It adds elegance to any home. The pattern creates an interesting appearance that makes the room appear large than it actually is.
How Do I Choose A Herringbone Floor?
Choosing a herringbone floor is simple. First, decide what kind of herringbone floor you want. Then, choose the right size and style for your home.
Next, consider the cost of installing your herringbone floor. Finally, take into account the durability of the herringbone floor.
Once you've decided on the perfect herringbone floor for your home, contact us for more information about our herringbone floors. We're happy to answer any questions you may have about herringbone flooring.