Providing elegance, interest, and warmth to Australian living spaces, our timber flooring will last for generations — growing in depth and intensity as the year's pass.
Environmentally sustainable, durable, and low maintenance, both our solid timber floorboards and engineered wood flooring boards promise to add grace and charm to your home — expertly installed by our team of craftspersons.

At the We Love Parquet we specialise in the restoration of timber flooring in Sydney and surrounds. See more details of our projects here.
Choose Solid Timber Flooring
If you value appearance, quality, longevity, and the feel of real wood beneath your feet, selecting solid timber parquetry flooring is the natural choice — says Ivan Kirton, director of We Love Parquet.
Our timber floors complement vintage properties as exquisitely as modern new builds. And, ageing gracefully as the year's pass, it will continually enhance your living space.
Our solid timber Sydney floors are remarkably robust, and due to the unique appearance of natural wood grain, no two floors are alike.
Opting for solid timber parquet flooring has the advantages of:
Ideal for heavy-traffic locations, including commercial premises.
Damaged sections can be repaired/replaced.
A multitude of designs, including classic herringbone and timeless chevron.
Season friendly — protects against winter's cold and summer's heat.
Wood parquetry floors are hypoallergenic.
Our timber flooring, Sydney, is renewable and sustainable.
Low environmental footprint as opposed to overseas woods.
Our wood flooring, Sydney, is naturally warm and attractive.
More energy-efficient than other flooring surfaces.
Low carbon footprint — a sustainable resource.
Resilient fire rating capacity.
Choose Solid Timber Flooring
For the pinnacle in longevity and luxury, we recommend our solid timber flooring Sydney solution.
Reassuringly hard-wearing and emanating an atmosphere of timeless refinement and indulgence, We Love Parquet's solid timber floors are lovingly fashioned to complement your living spaces.
Crafted from home-grown Boral timber, we offer a choice of six beautiful Australian hardwood species — each with its own distinctive texture, tone, and character.
Our team of artisans will meticulously fit and craft the solid fine wood blocks to create your floorspace and then treat with water based-lacquers to increase longevity and enhance the natural beauty of the wood.
Furthermore, you can personally select your solid timber floors Sydney installation design — tailoring the pattern to most perfectly suit your home.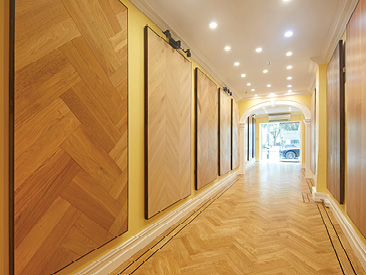 We Would Love to Hear From You
To find out more about sanding and finishing hardwood floors, call Ivan on 1300 467 277, or visit the We Love Parquet showroom at Shop 1, 193 Victoria St, Potts Point NSW 2011. Alternatively, you can get in touch with Ivan via our contact page, to discuss your needs.
Make Australian Hardwood Your First Choice for Flooring
When opting for solid timber floorboards — Australian grown hardwood should be your number one choice. In addition to the wide range of colours and grain patterns, they also have a number of inherent ethical benefits:
Timber producers in Australia are accredited and audited by the Forest Stewardship Council  (FSC).
Sourced only from managed native forests.
This type of real wood flooring complies with Australian manufacturing standards.
Can be traced back to the forest due to the chain of custody, managed by the FSC.
FSC certified forests are healthy, benefit local communities and provide employment.
An authenticity guarantee accompanies our solid wood flooring timber products through FSC certification.
FSC label on our wood floors Sydney products ensures that the timber came from responsible sources.

Our Selection of Australian Timber Parquetry
With a choice of hardness, tones, and grains — We Love Parquet can enrich your home with the perfect solid timber parquet.
Our catalogue of Australian hardwoods includes:
Blackbutt: (Eucalyptus pilularis) — versatile plantation timber from NSW and Queensland. Delivers wooden parquetry flooring with a cream to pale brown hue and a straight grain.
Spotted Gum: (Corymbia maculata) — a tough timber from the east coast. Provides wooden parquet flooring with shades of cream to brown with a wavy grain.
Jarrah: (Eucalyptus marginata) — slow-growing tree from Western Australia. Gives wooden parquet floors rich red tones, more dense than oak, and a coarse grain.
Brush Box: (Lophostemon confertus) — rainforest timber from NSW and Queensland. Vibrant colours from red to rich brown with a high density, finely patterned grain. Resistant to splintering and wear.
Grey Ironbark: (Eucalyptus drepanophylla) — high-quality hardwood from NSW and Queensland. Dense, hard, strong and durable with a tight grain.
Red Ironbark: (Eucalyptus tricarpa) — extremely hard-wearing and durable. Colouring from deep red to red-brown with a fine texture and grain.
Tasmanian Oak: (Eucalyptus regnans, E. delegatensis, E. obliqua) – three eucalyptus species originating from Tasmania, NSW and Victoria. Adds a light straw/red-brown colour to wood parquet. Straight, even grain, dense and resilient.
Victorian Ash: (Eucalyptus delegatensis, E. regnans) a plantation timber that ranges in colour, from pale pink to yellow-brown. Coarse texture and straight grain.
Order a Free Sample of Solid Timber Flooring From Our Range
Engineered Timber Floorboards, Sydney
Continually endeavouring to be pioneers in our timber floors Sydney products, at We Love Parquet we also offer engineered timber parquetry flooring as an impressive alternative to our solid block options.
Pre-finished in our own Sydney factory, our wood parquet flooring engineered boards exude a similar striking grandeur of solid timber, but without the deluxe price point and intense installation process.
Our engineered timber parquetry floors boast an upper layer of magnificent European oak masterfully crafted onto a bed of rich, premium-grade plywood. And, with a straightforward installation process — the boards can be laid and walked upon the very same day.
Alternatively, these engineered boards are available unfinished — enabling you to complete the final sand and stain while in-situ. Not only does this permit you to more perfectly complement your existing decor, but also eliminates the risk of damaging an existing colour or lacquer coat during installation.
The Benefits of Choosing Engineered Timber Flooring
Offering all the opulence of solid timber, but at a more budget-friendly cost, our engineered timber boards also deliver the benefits of:
Fuss-free installation process of wood floorboards — mess is kept to a minimum.
Pre-finished in our own Sydney factory.
Can be walked upon on the same day as installation.
Includes a guarantee of excellence.
Bespoke colours are available for our engineered wood parquet floors.
A sumptuous layer of European oak.
The best wood flooring for homeowners on a budget.
Can be floated above existing floors.
Minimum lead time.
Engineered in Sydney.
Meets Australian standards — as opposed to overseas engineered products.
Gains in warmth and depth as the floor ages.
Engineered and installed in Australia for the Australian lifestyle.
Utilizing high-quality oil-based UV lacquer.
Fuss-free maintenance with traditional timber floor polish.
Suitable for homeowners, architects, and builders.
Where Can I Find Out More About Timber Flooring?
For more information on solid or engineered timber flooring, contact We Love Parquet.
We will happily advise, guide, and explore with you our wooden floors in Sydney that will suit your home and the results you wish to achieve.
Phone 1300 467 277 or call into our showroom at Shop 1, 193 Victoria St, Potts Point 2011, to see the range of timber flooring available for your project.
We Would Love to Hear From You
To find out more about sanding and finishing hardwood floors, call Ivan on 1300 467 277, or visit the We Love Parquet showroom at Shop 1, 193 Victoria St, Potts Point NSW 2011. Alternatively, you can get in touch with Ivan via our contact page, to discuss your needs.
This error message is only visible to WordPress admins
Error: No posts found.