Timber floors require occasional maintenance, trust us to do it right the first time. For 3 generations we've lived & breathed timber flooring. We'll ensure your floor looks its best and stays that way. 
We are timber floor sanding contractors in Sydney specialising in professional floor sanding and finishing services.
We are the only floor sanding company in Sydney that utilises French Polishing techniques
Wide range of options to suit your lifestyle and interior styling
Quality workmanship and ethical work practices
We're fully qualified and insured  
Specialising in timber and parquetry floors, floorboards, floor sanding, french polishing techniques and special wood stains.

We Love Parquet we specialise in the restoration of flooring in heritage buildings and elegant mansions, in Sydney and environs. See more details of our heritage projects here.
HIGH QUALITY FLOORING RESTORATIONS
Renowned for their flooring restorations, the experts at We Love Parquet are dedicated to high-quality workmanship, with dustless floor sanding. 
Our significant restorations, which include sanding parquet flooring, include:
Deltroit Homestead (circa. 1903): situated near Adelong, this is an outstanding example of Federation architecture. We Love Parquet completed the floor sanding and refinishing and installed parquetry to the entire living wing. We used European oak, keeping the style and integrity of the original historic homestead.
Boomerang (circa 1926): a heritage-listed historic home in Elizabeth Bay, Sydney. This is the oldest and finest example of Spanish Mission-style art deco architecture in Australia. Water damage to the intricate heritage-listed parquetry floor was successfully sanded and restored by We Love Parquet.
Commonwealth Bank at 5 Martin Place (circa 1914): This building experienced significant damage to the Heritage-listed Jarrah block parquetry floor during renovations. We Love Parquet repaired and restored the original parquetry, installing new parquetry floors over nine levels, with excellent results.
DISPLAYING THE GRAIN AND BEAUTY OF WOOD
Natural Australian hardwoods have a beautiful grain and colour. Whatever wood you choose for your timber floor, it will be enhanced by professional floor sanding.
It's essential to carry out floor sanding and polishing before applying a stain and gloss or matte finish, to emphasise the grain and beauty of the wood.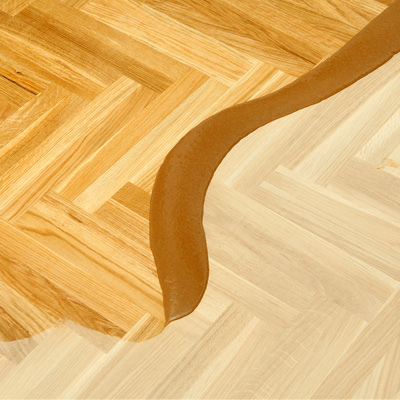 PROFESSIONAL FLOOR SANDING SERVICE
For quality control at each stage of the project, we ensure the ideal grade of sanding discs are used, appropriate for the type of hardwood and the final finish required.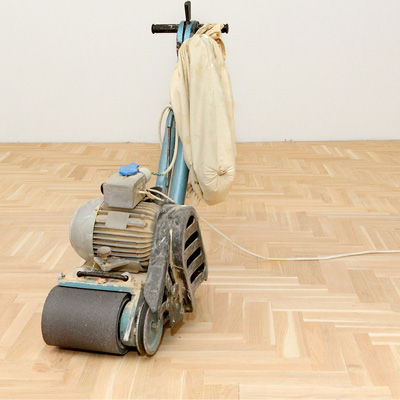 An advanced design of sanding equipment is used by We Love Parquet. This means your flooring project can be completed with the added advantage of dustless floor sanding.
Maybe your timber floor sanding is for a new floor installation or restoration of an existing hardwood floor. Either way, we use environmentally-friendly equipment, designed to vacuum the dust while sanding.
For quality control at each stage of the project, we ensure the ideal grade of sanding discs are used, appropriate for the type of hardwood and the final finish required.
Preparation Is the Key to a Great Floor
We Love Parquet flooring specialist, Ivan Kirton, advises thorough preparation before sanding and staining hardwood floors.
"Timber boards need to be prepared by sanding before they can be coated with polish," says Ivan. "The grade of sanding disc and the care taken when sanding wood floors is critical to the end result." 
"This has to be done with a level of skill and expertise, otherwise it won't last, or the finish will soon darken and obviate the beauty and true colour of the wood," he explains. 
"You can expect a beautiful finish for your floor sanding and staining. This is something critical to the overall appearance of your home."
You can trust We Love Parquet with your timber floor sanding and polishing, in the timeframe you have in mind.
Professional Restoration Makes Wood Floors Look New
Professional restoration of a scuffed or worn wood surface can be achieved by the team at We Love Parquet, by sanding and refinishing hardwood floors.
The resilience of wood makes hardwood floors extremely durable, but they are susceptible to changes caused by moisture and sunlight.
Water damage can be harmful to hardwood floors, leaving stains on the wood surface. With professional sanding and restaining, discolourations and imperfections can be removed or re-stained, depending on the impairment.
Sunlight directly onto a hardwood floor can bleach the surface and cause buckling of the wood. Sanding and restaining hardwood floors will bring back their original colour and durability.
"Typically, the first thing to wear out on a hardwood floor is the finish," Ivan says. "We are happy to evaluate any damage and advise on how your floor can be restored."
Expert Sanding and Restaining Hardwood Floors
The team at We Love Parquet specialises in the process to sand and restain hardwood floors, to restore them to as-new condition. 
Creating a beautiful and luxurious finish for your wood floor, to better see the inherent beauty of the wood grain, is dependent on the skill and ability of the operator. 
You can trust We Love Parquet with your timber floor sanding and polishing, in the timeframe you have in mind. 
We engaged We Love Parquet's services to lay brand new parquetry floor in our art deco apartment and could not have been more impressed with Ivan's team, nor more satisfied... read more with the result. The utmost care was taken during the work avoiding any possible damage in the apartment, and the new floor looks absolutely fantastic and as if it had been part of the apartment from day 1, meaning that the team managed to smartly integrate the new with the old in a very subtle way without impacting kitchen cabinetry or existing skirting boards. The team's service does not stop at the install stage either, indeed Ivan provides excellent customer service and has been incredibly helpful with making sure the floor is looked after going forward, going the extra mile in making sure the right maintenance / cleaning products are used with it, but also being so incredibly helpful with fixing the unavoidable minor damage that can occur with floorboards being used in a kitchen area. Close to a year on, the floor still looks just as amazing as it did when it was first installed – thank you to everyone at We Love Parquet, we could not recommend your services more!

Thomas Buxereau

If you want real parquet flooring this is the place to go. Ivan and his team showed professionalism all the way. The range is extensive and can be confusing, but... read more we were guided to the right decision though their keenness and dedication to provide the right product for us. We had a difficult floor (built 1800's) and they took all the floors problems and ours into consideration and we have a great floor that we are very proud of and very open to passing on We Love Parquet details. Thanks guys.

Drew Mollineau

I received personal one on one attention and service from Ivan at his Potts Point showroom. Ivan individually crafted 6 missing pieces of finger parquetry floor- slats and colour matched... read more and mixed the stain to match existing. We love Parquet was the only business in Sydney able to solve my issue.

Simone Baran

Ivan, Wail and Mark are all very helpful and informative. Their knowledge of wood flooring, and parquetry floors is second to none! They sanded and stained my parquetry floor, well-advised... read more me with the color choice and this alone has increased the ambiance (and value) of my apartment. Thrilled!

Bonnie Jensen

We love Parquet are fantastic. Ivan, Wail and the team are skilled, professional, customer focussed and brought our 70 year old heritage parquetry floors in our kitchen back to life... read more and looking like it would have, when it was installed. The quality of the work and attention to detail is second to none. They did such a great job in our kitchen, we have now decided to do the rest of the house, in stages.. I highly recommend We Love Parquet.

Simon Jordan

2021 update: We recently had our second job completed by Ivan and his team. Sanding and oiling of our deck. The finished job was brilliant and brought our once lifeless deck... read more to life- another great job Ivan and team- well done. 2019: Ivan and his team did a wonderful job with our floor. We recently had his team do the floor in our new house. Amazing job. Ivan was informative throughout. We appreciated that. Thank you.

G Z
This error message is only visible to WordPress admins
Error: No posts found.