Delivering astounding visual interest and providing luxury underfoot, We Love Parquet's chevron flooring is expertly cut, crafted, and installed to enhance your lifestyle, and make your home warm and welcoming.
Available in both solid timber and pre-finished engineered oak, our locally produced engineered wood flooring is within reach of all decor conscious homeowners.
Our Chevron Flooring Options
Engineered Oak Chevron Flooring
As an alternative to our solid timber blocks, We Love Parquet also offers expertly crafted engineered European oak chevron parquetry flooring.
Pre-finished in our Sydney-based factory, these boards boast the spectacular sophistication of solid timber flooring, but at a more affordable price point and with a cleaner and more rapid installation process.
Featuring an elegant layer of European oak on a base of premium-grade plywood — our engineered chevron boards deliver the same warmth and luxury as solid timber, while being more resistant to temperature fluctuations and with lower maintenance requirements.
Additionally, our engineered oak chevron parquetry boards have the advantages of:
Pre-finished in our Sydney factory.
More affordable than solid blocks.
Quick installation time.
Can be floated above existing floors.
Installed and walked upon on the same day.
Bespoke colours are available.
Minimum lead time.
Meet and exceed Australian standards.
Age gracefully.
Impregnated with an oil-based UV lacquer.
Straightforward maintenance.
For more information on solid or engineered European oak flooring, contact We Love Parquet. We will delightedly advise, suggest, and explore with you our European oak wood options and installation. Call 1300 467 277 or drop into our showroom at Shop 1, 193 Victoria St, Potts Point and talk to Ivan Kirton to see the range of European oak available for your project.
Call Our Experts Now to Explore Our Engineered Chevron Flooring
The History of Chevron Parquetry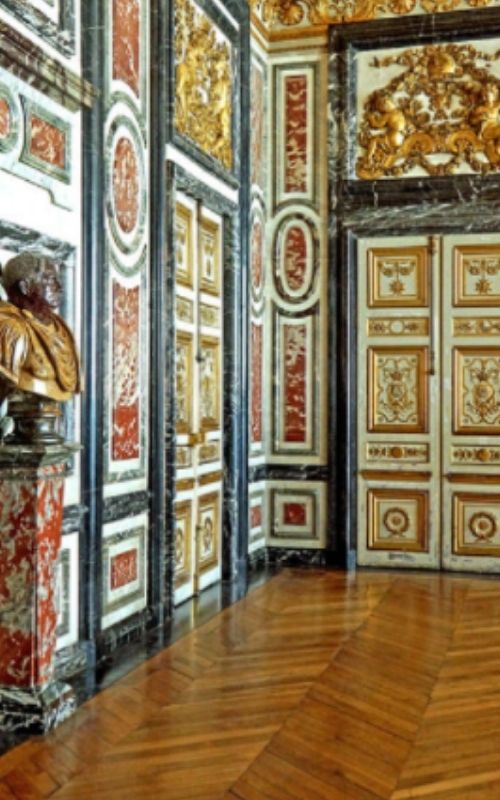 With its characteristic V-shaped design, the chevron pattern is considered by many experts to be one of the most ancient motifs in antiquity — appearing in
Neolithic pottery
dating back to the 8th millennia BC.
Deeply ingrained into the human consciousness, this almost instinctual and innate symbol occurs throughout our history — from the medieval heraldry of northern Europe through to Mediterranean Spartan shields.
Hence, it's unsurprising this organic design began to appear in parquetry flooring. Popular in the palaces of French royalty from the 16th century onwards, chevron floors became synonymous with grandeur and lavishness — a hallmark that it holds to the present day.
Contact Us to Explore our Solid Chevron Oak Floors, Sydney
The Chevron Floorboards Pattern
The trademark of chevron parquet is its distinctive angles.
The narrow sides of rectangular blocks or boards are precisely cut at 45-degrees — allowing them to tightly interlock to create a 'V'-shape. Across an entire floor, this makes an eye-catching zig-zag pattern.
This is in contrast to the close cousin of chevron parquet floors, herringbone — where the boards and blocks retain their rectangular shape and are inlaid at 90-degree angles.
Which Rooms Are Suitable for Chevron Parquetry Flooring?
It's your home — so you can have chevron parquetry in any room you wish.
However, at We Love Parquet, we suggest that this striking composition, with its bold geometric style, suits particular living spaces more than others. Consider the following when deciding to opt for parquet chevron boards or blocks:
Chevron boards add warmth, luxury, and leads the eye to focal points, like windows with a nice view. Suitable for all spaces of the home or commercial premises, remembering that wood is not harmful to your health, and children will benefit from the smooth clean surface provided by oak flooring when they play
Chevron flooring is dramatic and breathtaking — it deserves to be seen and enjoyed.
Hence, if you have a busy family home, with the room floors adorned with sofas, coffee tables, rugs, and children's toys, think of real wood floors first — they offer warmth, resilience and a healthy natural place for kids to play.
Consider the 'feel' that you want from your solid timber or engineered flooring.
The striking angles of chevron parquet flooring deliver a geometric and modern appearance, whereas herringbone and straight boards give a classic, heritage experience.
If your living space already boasts bold, angular lines, the addition of chevron flooring may make the area appear a little 'busy' — wallpaper, artwork, or decorative furniture may clash with the geometrics of chevrons.
That said, remember that your oak chevron parquet flooring will provide years of wear, outlasting your current home decor. It may be advisable to adjust your living space to match your new, beautiful parquet — not the other way around.
Call Our Experts Now to Explore Our Engineered Chevron Flooring
This error message is only visible to WordPress admins
Error: No posts found.